Three hours of Yiddish stories, songs and poems – 20 performers being streamed into more than 100 homes across ten countries – all through the medium of Zoom, and another first for SCoJeC!
Before the coronavirus lockdown, we were planning a three-city tour by Vivi Lachs of the Yiddish Open Mic Café – a monthly Yiddish-language event in London – along with fellow Yiddishists Tamara Gleason Freidberg and Arturo Kerbel-Shein. Then when it was clear that the tour wasn't going to happen, we realised that a 'virtual' Yiddish Open Mic would open up the possibilities of involving a far wider group of performers, and a far wider audience, than was originally envisaged. And so it turned out!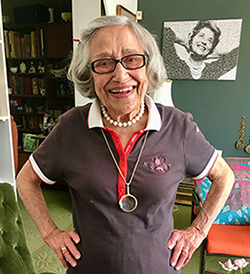 With the agreement of her family we were honoured to be able to dedicate the event to the memory of the renowned Glasgow actor and Yiddish speaker Ida Schuster Berkeley עליה השלום who had sadly passed away the week before. Ida's career began in the 1940s, when she worked with the Avrom Greenbaum Players and the celebrated Unity Theatre, an icon of Red Clydeside. Over the next half-century she appeared in many important Scottish plays, including The Slab Boys and The Steamie, as well as such popular series as Dr Finlay's Casebook, Hamish Macbeth, Taggart, River City, and Still Game. Her final performance, only a few weeks before she passed away, earned her the title of The World's Oldest Podcaster for recorded memoirs called Ida Schuster's Old School. Those of us who knew her however slightly will never forget her acute intelligence, her wit, her elegance and her charisma. She was a unique character whose memory will remain with us for ever.
The event attracted a great cohort of performers from Scotland. Edinburgh-US Yiddish poet Ellen Galford read two of her original poems in Yiddish, including one, Skyping Elijah about Elijah visiting Jewish homes during the coronavirus period; Yiddish scholar and teacher Heather Valencia read a moving poem by writer and teacher Kadya Molodowsky; Edinburgh Yiddish enthusiast Elaine Samuel read a poem she'd written while studying Yiddish at the Columbia-YIVO summer school; and our oldest participant, Halina Moss, in her 90s, whose first language was Russian but spoke Yiddish with her parents when she came to Glasgow, told us about her multilingual life and sang two Yiddish songs that she had learned in a folkshule near Bialystock in 1939.
We were also delighted to be able to wish a hearty mazaltov to Edinburgh-based poet David Bleiman, whose poem The Trebbler's Tale, written in Scots-Yiddish, recently won first prize in the annual Sanaschaw competition of the Scots Language Association. SCoJeC was proud to host the world premiere performance (as David described it!) of this hitherto unpublished work, and to publish the poem for the first time on our website.
We also had guest star Michael Alpert, National Heritage Fellow of the US National Endowment Awards, who was raised in a Yiddish-speaking US family but is now based in Fife, and has served as programme director on many international Yiddish cultural festivals; he read a poem by Itzik Manger, and sang two songs. much to the delight of the audience. Tamara Gleason Freidberg spoke about the history of Yiddish language and culture in Mexico, Arturo Kerbel-Shein read a Yiddish translation of an ancient Nahuatl (Aztec) poem by the renowned poet and warrier Nezahualcoyotl, and Steve Ogin performed with the four-piece Yiddish Ukelele Ensemble, defying the Zoom musical 'lag' to give us chorus songs across four households.
As well as coaching some of the performers who were just starting off in Yiddish, compering the evening, and putting together the programme notes, Vivi Lachs performed two songs accompanied by Sarha Moore on saxophone – a ballad by a famous Yiddish poet about poverty in London put to her own melody, followed by a well-known old melody, Vu Bistu Geveyn? ("Where were you when…"), with her own new Yiddish words about the isolation caused by the coronavirus.
Vivi, Tamara, Arturo, and the Scottish Yiddishists were complemented by a range of other performers from London and other parts of the world – Cork based musician Ruti Lachs, Reform rabbi, scholar, singer, and fiddle player Barbara Borts, Yiddish teacher, poet, scholar, and activist Beruriah Wiegand, US Yiddish scholar, singer, and musician Jane Peppler, and writer Misha Shapiro. The last performer was universally acclaimed Phil Tomlinson from Derbyshire, whose honey voiced singing with piano accompaniment perfectly accompanied his chosen song, Zhumen Binen about Jewish bee keepers.
There was also a great atmosphere in the polyglot "chat" alongside the event itself, with people commenting and conversing in Yiddish, Hebrew, transliterations of both, and Spanish as well as English. The feedback demonstrated that we were right to go ahead, and we will be planning more events like this, even after this eleventh plague is over and we're allowed out from bondage to freedom!
At the end of the evening, some of the audience stayed on for an informal chat with some of the performers. Arturo was able to share with Halina that he, too, had attended a folkshule as a young child, where he, too, had learned the song Sheyn, Bin Ikh Sheyn.
This was a fitting conclusion to the evening, where first generation Yiddish speakers were sharing their language with Yiddish scholars, Yiddish teachers, Yiddish afficionados, and some complete Yiddish novices – and where traditional Yiddish songs and stories mixed with modern compositions. One of the audience spoke for us all when she commented, "I loved being a fly on the wall in a Yiddish environment. Wish I could have been there in person!"