Following the pattern of our successful joint education-and-outreach events in St Andrews, Fort William, Linlithgow, and Stirling, SCoJeC joined with the Glasgow Jewish Representative Council in Giffnock for an evening of presentations about our current projects, followed by a stirring Klezmer concert.
The evening began with presentations from SCoJeC's Education and Community Development worker Zoe Jacobs on the JOES Boxes project that aims to ensure every child in Scotland has access to authentic Jewish artefacts, with resources and extra information for teachers and practitioners, and on the volunteering project that the Rep Council set up with support from SCoJeC's volunteering cluster grant. The audience were really enthused by the idea of exploring how Judaism must appear to the outside world, and ensuring that we represent it accurately and positively – representing all denominations while also telling personal stories. One participant told us about a personal tradition in her family – to write a letter to her future self each Pesach, which she puts away with the Seder plate and gets out and reads the following year.
A wonderful concert followed this presentation. Although Michael Alpert, the prize-winning musician who had been billed to appear, was laid low by flu and was unable to join us, the show went on – Gica Loening and her son Herbie played a superb array of tunes, from Klezmer, such as the tune Good Morning, to traditional Scottish music, to a Swedish song, while Fiona Frank taught dances to some enthusiastic members of the audience. The combination of live music and dancing is always wonderful, but this was particularly fantastic and enjoyable. The music was varied and interesting, the explanations of each tune gave us an insight into Gica's own musical interests as well as the history of the piece, and it all came together so well to create a really lovely evening.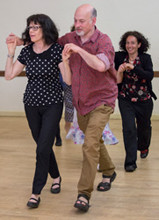 One non-Jewish visitor who had heard about the evening at an interfaith event in Dumfries wrote: "Thank you so much for telling me about the klezmer concert. I went up to the synagogue and walked in to the gathering and started talking to people! The talk about the boxes made up with different objects which are shown in schools was interesting, after which there was a break (more food) and then the concert started. Unfortunately the main musician had flu which was unfortunate but the musicians played a lovely mixture of klezmer with Scottish flavoured tunes as well.
After a break, the lovely lady in charge of proceedings, whose name I didn't catch, suggested trying some dances. She talked us through it and off we went. One or two men joined in, and needless to say, I danced every dance. The atmosphere was great, and we had a good time. I bought a cd of the music, and played it in the car on my way home."
A big thanks to Gica and Herbie for stepping into the breach at short notice and for such a beautiful concert, to all those who have donated money or artefacts to the JOES Boxes project, and for the generous support of the Netherlee and Clarkston Charitable Trust. Please do keep the donations coming!