Linlithgow Burgh Halls was the beautiful venue for an interfaith group of volunteers ready to offer their talent, time, and imagination in order to help SCoJeC with our JOES Boxes project, when more than 25 volunteers helped us paint wine glasses to create imaginative Kiddush cups – the goblets used for the blessing over wine in the ceremony welcoming in Shabbat, the Jewish day of rest.
As part of the event, there was a short presentation about the Boxes project, and how it aims to improve education and understanding about modern Jewish lives in Scotland. The volunteers came up with many interesting questions, especially about use of the different the items in the boxes, such as the gregger – the Purim rattle – and the seder plate used on Passover, and the religious, spiritual, or emotional connection with them.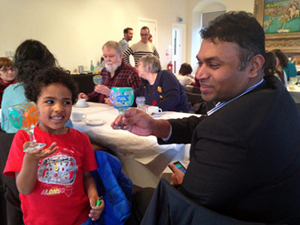 While we decorated the glasses, guided and supported by the superb Glasgow-based Israeli artists Tom and Roi, we discussed the concept of Kiddush – the idea of separating the special from the ordinary – and how we can use this concept in education to inform young people about Judaism. We also talked about different ways of thinking about Jewish artefacts, and the idea of tzitzit, the specially tied fringes that orthodox Jewish men wear on their garments, being a reminder of something important – and if the volunteers were to wear something similar what would it remind them of?
The glasses were beautifully decorated, with each volunteer inspired by his or her own life, and by how they interpreted the idea of Kiddush, and the peace that comes from Shabbat. It was a lovely evening enjoyed by children and adults alike, with a great outcome for the JOES Boxes and hopefully for all who attended. L'chaim!