SCoJeC held an evening of Jewish music in Inverness that attracted a small, but highly enthusiastic crowd from the Jewish Network of the Highlands, including one who had travelled up from Argyll, and another who had come from Glasgow especially for the event. We are grateful to the Kleyne Klezmer trio who provided us with live music, and to everyone else who sang either unaccompanied or with guitar, or joined in with their own instruments. We were also delighted to welcome four Jewish people from America who happened to be in Inverness that day, including a honeymoon couple, and a renowned Jewish folk singer who is on holiday in Scotland, as well as members of the local interfaith group.
A traditional kosher buffet was included, brought from Glasgow by SCoJeC's Outreach Project Manager, Fiona Frank, who also led some dancing, and joined the musicians on concertina. 
The music was inspiring and varied, and everyone shared their earliest memories of music, and the way in which it had had impacted on their lives. One participant had brought a copy of Jewish Folk Songs in Yiddish and English which had in the early 1970s resided in the library of Keith Grammar School, Banff – a somewhat unusual choice for the school, it might be thought, but perhaps inspired by the popularity of Fiddler on the Roof at that time. We also enjoyed some Israeli and Shabbat music brought by other participants – and everyone was soon on their feet and dancing!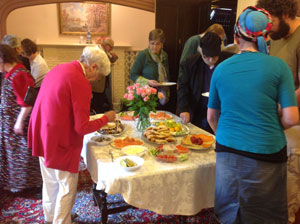 SCoJeC's volunteer Ambassador to the Highlands and Islands, Linda Martin, who organised the event, explained the background of an old song of the Yiddish, Zog es mir noch a mol, and the allegorical meaning behind Chad Gadya. One participant, David Gallant, who has a particular interest in, and many recordings of, children's songs of the Far East gave a surprise rendition of an Indonesian song. A further break from Jewish music came with the arrival of the local community police who called by to ensure all was running smoothly – their entrance provoking an impromptu rendition of Gilbert & Sullivan's old favourite, A Policeman's Lot is not a Happy One! Whilst, fortunately, we did not encounter any problems, we are appreciative of their care and concern on our behalf.