SCoJeC's Education and Community Development Worker, Zoe Jacobs, spent four days in Shetland as part of an Interfaith Scotland project. Together with representatives of the Muslim and Christian faiths, she visited primary and secondary schools, where she spoke to children of all ages about Judaism and being Jewish in Scotland today.
The aim of the trip was to offer visible religious diversity to children who rarely see it, enabling them to see that these are living religions, and giving them a chance to interact with people from those religions, and to ask questions. An additional benefit of having the three Abrahamic faiths together was that the participants were able to highlight the similarities as well as the differences between the faiths, showing a united front against stereotyping, addressing the media portrayal of religion and politics, and clearly demonstrating inter-religious friendships.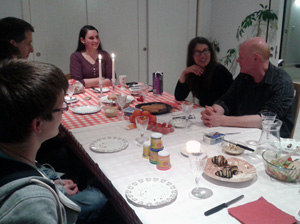 The interfaith session was run nine times in four different schools. It enabled each of the faith representatives to talk about their religion, and this was followed by an opportunity for children to try on religious clothing and ask questions. These ranged from how it feels to be the only Jewish person in a school to the Jewish view of capital punishment. All of the children were interested and polite, and particularly enjoyed trying on the kippot and tallitot as well as hijabs – which helped to demystify people who may appear different.
While in Shetland, Zoe also ran an session about Judaism and Shabbat, which was attended by ten members of the Shetland Interfaith Group. The respectful and interesting questions from the participants covered many common observances of Shabbat and the meaning behind them, and those attending also had an opportunity to plait challot out of playdough – and to taste real ones! This session was particularly special as it not only discussed the meaning of Shabbat, but, through open dialogue, enabled the group to gain an understanding of its 'feel'.
Radina Mackay, who helped to organise the events and hosted the Shetland Interfaith Group evening, said: "The Jewish evening was culturally stimulating, interesting and engaging. Zoe's enthusiasm and energy, her passion for all things Jewish and her open and friendly manner helped to create a sincere desire to learn more about Jewish people, Jewish families and communities."